The Beauty of Living on Virginia's Eastern Shore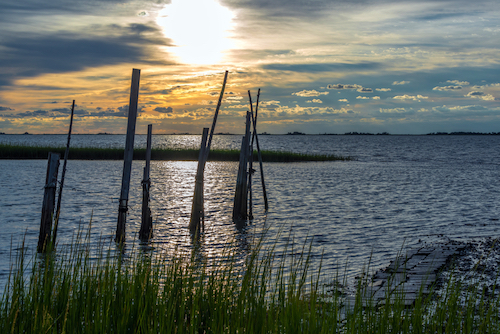 Who loves Virginia's Eastern Shore? Anyone seeking a lifestyle that's free from overdeveloped beaches, resorts, and souvenir shops!
While many tourists will flock to Virginia Beach as a tried-and-true resort city, the Eastern Shore boasts none of that.
It's blissfully uncrowded. And it's often overlooked as a place to live.
Bordered by Maryland to the north, and surrounded by the Chesapeake Bay and the Atlantic Ocean, the peninsula is connected to Virginia by the Chesapeake Bay's 21-mile long tunnel.
There simply are no overdeveloped beaches. Instead, you will find miles of pristine wetlands, small towns, and hidden beaches just waiting for discovery.
Life here is also diverse. From artists and farmers to watermen, you'll find that life moves at a much slower pace.
At the northern point of the Eastern Shore peninsula is Chincoteague Island, famously known for its wild ponies. 
In Onancock, get out your walking shoes because it's the best way to see this small town! 
And at the southern end of Virginia's Eastern Shore, you'll find Cape Charles, a small town loaded with American history, plenty of Chesapeake Bay bed and breakfasts, and enough natural beauty to take your breath away, including the Barrier Islands.
The cuisine here is quite varied. You'll find world-class barbeque, Chesapeake Bay oysters, clams and oysters, and soft shell crabs, as well as Smithfield Ham and fancy Virginia peanuts.
Virginia's peanuts are the largest of the four peanut types grown in the US.
The Eastern Shore of Virginia and Oysters
Virginia is home to seven oyster regions, all with their own range of distinct flavors. The Eastern Shore claims three of the oyster regions and you'll have no problem finding restaurants that serve up the delicacy in a multitude of ways.
You'll also find that oyster roasts are big here. The Eastern Shore of Virginia is known, after all, as the oyster capital of the East Coast.
The Shore is also known for its string of barrier islands. Once an area that had popular resorts, seafood companies, and gun clubs, it is no more. The Barrier Island Center was built to keep a vanished way of life preserved.
You'll find remnants of Cobb's Island Hotel as well as many other artifacts from a time gone by.
But the reason people come to this part of Virginia to live is because the lifestyle is so casual and laidback. Home to two national wildlife refuges, the Eastern Shore offers a more thoughtful and less stressful way to live.
You'll find plenty of independently owned shops to enjoy, as well as local events. With few chain stores in this part of Virginia, you'll find the area is anchored by mom and pop marinas, small villages, and plenty of Virginia hospitality.
Where else in the world can you go to paddle to a winery (Machipongo, VA) while surrounded by a 300-acre working farm? 
The Eastern Shore was made for discovery, and there is plenty to see and do, all on your own terms.
If you're thinking of building a home on the Eastern Shore, please get in touch with Virginia Modular Homes 1st. As an experienced quality modular homebuilder, we're very familiar with the terrain of the Eastern Shore and have worked with all kinds of building lots.
To learn more about the many advantages of building a modular home with us, click here.