OUR 4-STEP MODULAR BUILDING PROCESS
What does it really take to get your home built? A tightly controlled modular building process!
And it all starts with you.
We combine your home buying needs, your tastes, and lifestyle preferences with our extensive history of homebuilding—over 40 years—and extraordinary customer service.
Working within your budget, Virginia Modular Homes 1st gets your home site ready.
That means obtaining estimates!
Some of our customers prefer to do this legwork themselves.
However, most like for us to complete this site work for them.
Just remember, from excavation and grading to foundation work and mechanicals, we can do as much of the site work as you want or as little.
It's completely up to you.
Wondering how the whole modular building method works? Here's our 4-step process.
STEP 1:

  Design Phase--Floor Plan & Budget
In this initial stage of building your home, we work closely with you to understand what you want your dream home to look like.
That's why your personal building consultant will work with you, guiding you, keeping your plan within budget.
Virginia Modular Homes 1st will:
Inspect your home site

Discuss with you site work choices

If needed, establish financing options

Start the blueprints
With our easy-to-understand line item pricing, you're in control of the bottom line every step of the way!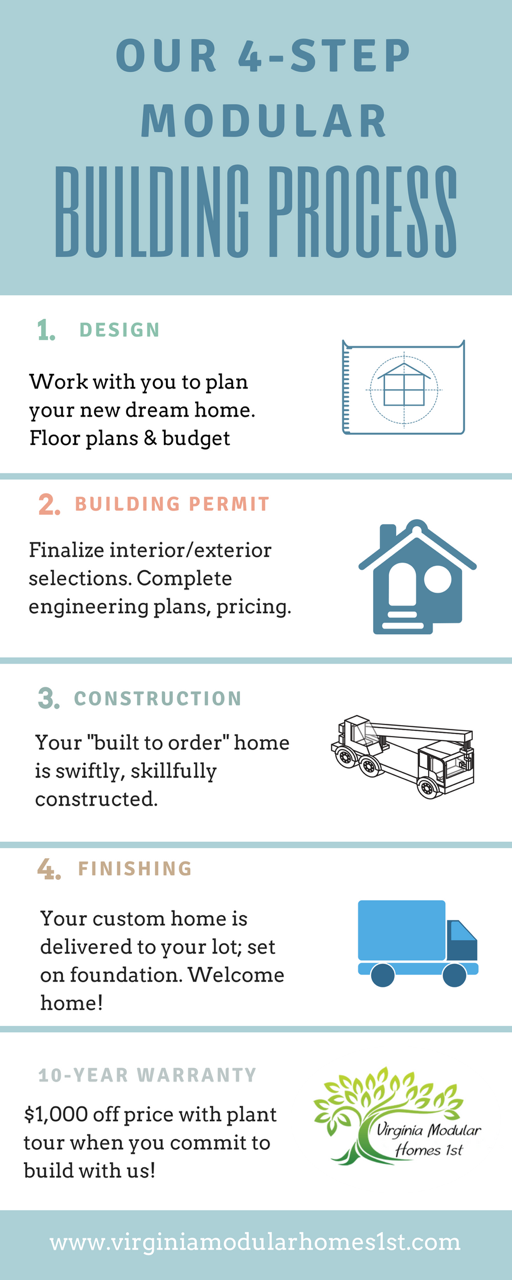 STEP 2:

  Permit Phase--Finalizing Selections, Engineering Blueprints
In this step, we complete all necessary engineering plans for the building permit application. Detailed final pricing is also completed.
Our Design Center makes it so easy to shop for flooring, cabinets, faucets, etc. For interior and exterior selections, we're your one stop shop!
We've got all the samples and resources you need to make the right selections for colors and finishes for your new home. Best of all, you'll find them all in one convenient location.
STEP 3:

  Construction--Production
We swing into full "built to order" action in this step! Your home is swiftly and skillfully constructed. And it's all done in a state-of-the-art, atmosphere controlled facility. Your building consultant is with you every step of the way as your dream becomes a reality!
STEP 4:

  Finishing Stage--Welcome Home, Our Warranty, and More!
In this final stage, your custom home is delivered to your lot and set on its foundation. Skilled craftsmen are on site completing the final touches to your home like hardwood floors.
Welcome home!            
Even after you've gotten settled in, Virginia Modular Homes 1st will come back one year later to complete our warranty service.
We want to ensure that you are completely satisfied with your home. And, we also provide a 10-year warranty on your new home, above and beyond the manufacturer warranties.
We hope that you'll consider Virginia Modular Homes 1st your resource for life, not just during the warranty period. As always, we are happy to assist you however we can!
To learn more, please call us! (540) -256-3242
We answer the phone 7 days a week, 24/7. Or contact us using our online form. 
Either way, we look forward to talking with you about building your new home!