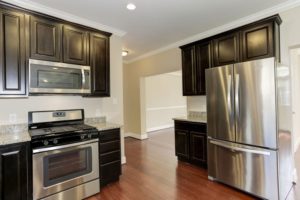 What makes a beautiful home? That's easy! The one in which the prospective homeowner is thoroughly invested in creating a home that's exactly what they want.
They aren't willing to settle for a pre-owned
home that doesn't completely fit their lifestyle tastes and needs.
For over 47 years, the philosophy of Virginia Modular Homes 1st has been to design and build a high-quality home that's a joy to live in.
When our homebuyers move into one of our carefully constructed homes, they immediately feel at home!
Virginia Modular Homes is a leading producer of custom modular residential, multifamily and commercial construction.
We pride ourselves on the ability to design and build a custom crafted home using quality name brand materials to ensure value and customer satisfaction.
Although we offer a wide variety of standard plans we realize most customers use them as a starting point to create a custom modular home design that meets their specific lifestyle needs.
With the continued support of our independent Builder Network we will continue to "Build America's Future…Today!"
About Us—Advantage of Custom Built Modular Homes
Virginia Modular Homes 1st builds custom designed modular homes for those that already own a building lot, or who plan to own one.
What's more, the advantages of building a modular container home far outweigh the benefits of building a traditional on-site home.
Our homes are precisely constructed in a climate controlled environment. Weather conditions are always optimal! We never have to contend with weather delays, theft, subcontractor conflicts, or vandalism.

We have more control over the building process than site built homes because we have the systematic advantage of an assembly line construction.

We have the terrific advantage of being able to review every detail of your home, then finalizing the total cost prior to driving one single nail!
What's more, we are known for simplifying the homebuilding process. Our dedicated team of professionals will guide you through every step of the construction process. From floor plan selection and design, selecting colors and making material selections, to the actual construction and move-in, our transparent management process keeps you informed.
You can be as involved as you would like!
About Us—Our Ultimate Goal
The custom modular home we design and build for you is ultimately an expression of your lifestyle, your vision, and your taste. That's why when Virginia Modular Homes 1st homeowners walk into their new homes, they already know they have a home they will both love and enjoy for years to come!
And that's our goal, not just to build you a home. We want to develop a relationship that lasts far beyond the completion of the project. We work hard to earn customers for life, and we do it through:
Quality communication
Excellent Craftsmanship
Excellent customer service
If you have any questions about building your own home or a multi-home, talk to us. We're here to help!
(540) -256-3242  We answer the phone 7 days a week, 24/7.